About Westheights Chiropractic
Our Family-Centered Practice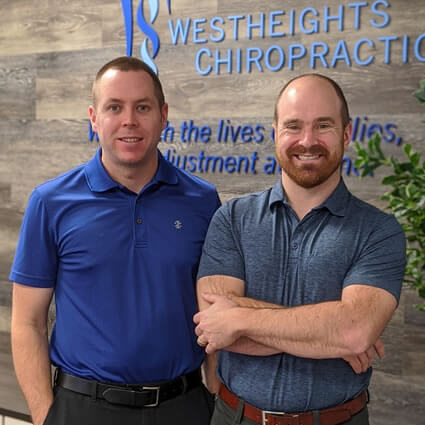 Since 1986, we have always made wellness optimization the focus of our chiropractic care center. Westheights Chiropractic is passionate about working with family members of every age, from newborns, babies and children, to parents, grandparents and moms-to-be.
We are proud to lovingly tend to the health needs of four generations of family members; we value every practice member, no matter their age, vitality level or physical condition.
Our History of Core Values
Westheights Chiropractic's original office was home-based, located directly across the street from our present one. This first practice grew so rapidly that a larger facility had to be designed; it opened to much fanfare in 1999. We've been helping multiple generations of families ever since.
Our vision is to enrich the lives of families, one adjustment at a time. Our mission is to reach out to as many families as possible to maximize their health potential, and to provide compassionate mentorship as they begin their journey toward wellness.
We accomplish this goal through the following core values:
Act with integrity
Embrace change
Pursue excellence
Put people first
Serve our Kitchener community
Our Practice Difference
Here are some of the ways that we stand out in the communities of Kitchener, Waterloo, Cambridge, and surrounding areas:
We take a compassionate approach with our practice members. We are heart-centered and patient-focused, and take the time to listen and care about your concerns. Our customized care plans are also designed to align with your personal goals.
Our adjusting techniques are gentle and customized. Generations of families have told us that the highly refined adjustments they receive in our office provide welcome relief and rapid healing in a positive, upbeat environment.
Because we have two doctors on staff, our practice members receive the benefit of their combined knowledge and expertise.
We offer state-of-the-art diagnostic scanning technology in the form of the Insight Discovery Subluxation Station™. This advanced system allows us to accurately and painlessly identify areas of nerve interference that may be preventing optimal nervous system function.
Get Started Today
Very friendly, very helpful, very efficient, lots of positive energy.

Thank you for making me feel so comfortable!

All of you have been a pleasure thank you what a fantastic team.

My visit was phenomenal! Everyone was very informative, attentive, and friendly! I'm excited to receive further care!

Will definitely recommend Dr. Ryan!

Extremely friendly staff. Very comfortable chairs. Dr Aaron is very personable and explained everything he was doing as he assessed. Great team!

The staff are very friendly and welcoming. Nice to see smiling faces!

Excellent first experience with chiropractic care! Staying the course.
Our office is a happy, cheerful place, and you will often hear the sounds of laughter ringing through the hallways. Do you have a problem we can help? We would love to be of service.
Reach out to us to schedule your care at Westheights Chiropractic.

About Westheights Chiropractic | (519) 744-9904