New Practice Members at Westheights Chiropractic
Why Choose Our Warm and Friendly Office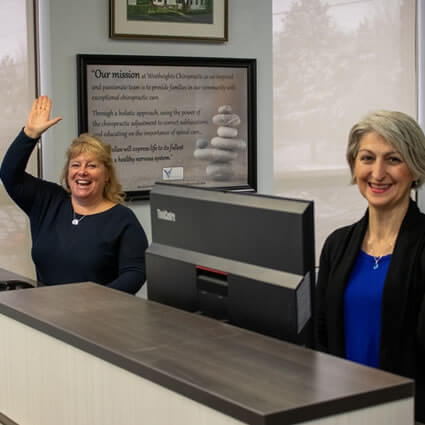 If you are visiting with us for the first time, we would like you to know exactly what to expect. Westheights Chiropractic's vision is to have a world-class chiropractic office which offers you the most amazing patient-centered experience you could ask for. We will make sure you feel welcome and supported every step of the way.
We always want to make sure that we are meeting your healthcare goals, so whether you are looking for a quick fix, correcting the root cause of your problem, or wellness care, we are here for you.
Using the latest cutting-edge technology to assess and diagnose the cause of your problem, state of the art electronic health records to ensure your records are kept safe, up to date, and easily accessible to other practitioners on your healthcare team, and top of the line chiropractic tables and equipment which allows our doctors to perform precise spinal adjustments.
From our inspired and passionate team, we are extremely confident you chose the right office for you and your family's chiropractic health needs. Our office is often described as upbeat and positive, with a happy vibe that results in lots of laughter. We hope you think so, too.
Your first visit will take about 45 minutes to an hour. As you enter the office, you will be warmly greeted by one of our friendly staff members, who will invite you to sit down and complete any unfinished intake forms (we give you the option to fill out your forms online). You will then be introduced to one of our caring clinical chiropractic assistants who will give you a tour of our office and bring you back to our exam room. Here, you will also get to meet your doctor, who with the help of the clinical chiropractic assistant will perform a thorough assessment, which includes:
A detailed health history
Spinal examination

Digital range of motion
Digital postural analysis (including bilateral weight distribution)
Grip strength
Spinal palpation
Neurological examination

Thermal imaging
Surface electromyography
Heart rate variability

X-rays, if necessary (we will refer you to a convenient local facility)
Your second visit will take about 15 minutes. During this time, the doctor will deliver a report of findings, which is a thorough review of your X-ray, spinal, and neurological examination results.
If the doctor is confident that you can be helped with chiropractic care, you will then be able to receive your first chiropractic adjustment.
If the doctor is not confident that chiropractic care can help you, it is their promise and responsibility to you, to refer you to another healthcare provider who can get you the best results possible.
Before your first adjustment, the doctor will explain to you in full detail which adjusting techniques they will be using on you. The first adjustment is considered a warm-up adjustment, the goal for the doctor is to get a feel for how your spine is moving and which technique is going to work best for you.
During this visit, you will receive customized care recommendations based on your condition and your stated goals.
The frequency and intensity of subsequent visits will be determined by the complexity of your case and your stated preference in care goals. This visit will also conclude with your second chiropractic adjustment.
What Our Kitchener Practice Members Say
Very friendly! Extremely understanding and informative. Love it here already.

Very friendly and great staff! Can't wait to return!

I had a very friendly and comfortable experience. I am confident that any of my healthcare needs will be met. I am looking forward to continuing treatments.

Excellent first experience with chiropractic care! Staying the course.

Very welcoming. Very professional but still able to make it a relaxed experience. Very informative. I'm excited for my next appointment.

Overall a fantastic experience, the team demonstrated expert knowledge and explained the use of each instrument and step along the process. I am beyond excited to get started and looking forward to the continuing treatments I receive. Thanks again for a wonderful experience!

Everyone is very nice and you don't feel rushed.

Overall felt very welcomed and comfortable, and new I was gonna get amazing care and be in great hands.

The people at your practice are all very friendly, knowledgeable and professional. My expectations were greatly exceeded and I am very thankful for your help. Definitely the best chiropractic office I've ever been to or even heard of.

Wow from the start to finish.

Everyone at the office was amazing.

Very friendly, very helpful, very efficient, lots of positive energy.

The staff are very friendly and welcoming. Nice to see smiling faces!

Staff were very welcoming and professional, I'm excited for my next appointment!

My visit was phenomenal! Everyone was very informative, attentive, and friendly! I'm excited to receive further care!

Looking forward to improving my health with this wonderful team of people!

Great initial visit! Very educational and thorough.

You guys are a fantastic bunch! Thanks a lot.

My first visit was amazing! Can't wait to start my treatment!

This office is EXCELLENT. They really care about your needs and treat you like a human being. You're not just a number. I highly recommend Dr Ryan and his staff!

Amazing customer service and very experienced knowledgeable staff.

Very thorough initial visit. I was impressed at the amount of high tech tools being used.

Extremely friendly staff. Very comfortable chairs. Dr Aaron is very personable and explained everything he was doing as he assessed. Great team!

Fabulous! I am so glad I was referred and that my health is being taken seriously again.

Ever so pleasant and welcoming! Thanks for the thorough explanations, for being most considerate and professional. You all make a great team!

Everyone is so warm, welcoming & kind, we were very pleased. I was honestly nervous for my daughter and I's appointments but that nervousness melted away the second Angela greeted us. She did a wonderful job at making my daughter and I comfortable, as did Dr. Ryan. My daughter is usually super nervous around new people but she was comfortable with Angela and Dr. Ryan. Looking forward to our future appointments!

Thank you for making me feel so comfortable!

Wonderful staff! Everyone was super helpful!

Everyone was so friendly and pleasant. I was put right at ease as I had never been to a chiropractic service. Thank you so much!!!!!

Informative, knowledgeable and great first visit :)

The staff is extremely welcoming and kind! Very respectful and helpful. Thank you, we will be back!

Will definitely recommend Dr. Ryan!

Extremely welcoming and friendly. I was completely comfortable as everything was explained in detail. Thank you for a great experience that I was honestly nervous about. Looking forward to my next visit.

The fact that every single & small little thing about you and your point of pain is addressed and noted off. Also the explanations given in regards with the health issues are really good and easy to understand.

My experience at Westheights Chiropractic has been incredible. The staff is welcoming and friendly, the fact that they remember everyone is incredible! Dr. Aarons knowledge and ability to be clear in his explanations is outstanding. I feel safe and comfortable every time I walk into the office. My introduction to them was by referral of a referral and I can say with absolute certainty that I will be referring people to Westheights Chiropractic myself!

I found the staff to be very personable.

Absolutely incredible care from everyone in the office!

Thank you for a great first appointment! Everyone was so welcoming and friendly. Looking forward to coming back soon!

You guys are amazing! One of the most professional environments I've had the pleasure of being in.

Knowing how my son was feeling before seeking chiropractic care to how he is feeling now has been such a huge improvement! I felt that there was hope for me!

All of you have been a pleasure thank you what a fantastic team.
Get Started Today
Our office is friendly and accommodating, and everyone of all ages enjoy their visits. We would love to partner with you in helping you to feel and function at your best; we always align our care plans with the outcome you desire.
Reach out to Westheights Chiropractic to get started!
CONTACT US »

New Practice Members at Westheights Chiropractic | (519) 744-9904