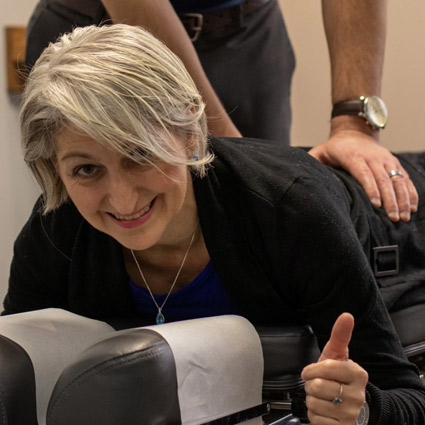 Westheights Chiropractic Reviews
What Our Kitchener Practice Members Say
At Westheights Chiropractic we love when practice members share with us their feedback and comments after chiropractic care. Please read our testimonials below to see what other people have achieved through their tailored treatment plans with us.
Share your stories too! Click here to send us your feedback so that we can help to spread the word about the benefits of natural Westheights Chiropractic care. For more information, or to schedule an appointment contact us today.

Everyone was so friendly and pleasant. I was put right at ease as I had never been to a chiropractic service. Thank you so much!!!!!

This office is EXCELLENT. They really care about your needs and treat you like a human being. You're not just a number. I highly recommend Dr Ryan and his staff!

Great initial visit! Very educational and thorough.

Extremely friendly staff. Very comfortable chairs. Dr Aaron is very personable and explained everything he was doing as he assessed. Great team!

Thank you for a great first appointment! Everyone was so welcoming and friendly. Looking forward to coming back soon!

Informative, knowledgeable and great first visit :)

This is my first visit today and it was a very thorough, detailed assessment, explanations where required, asking for questions and answering them!

Fabulous! I am so glad I was referred and that my health is being taken seriously again.

Everyone in the office was so welcoming! Above and beyond what I've experienced elsewhere. I really appreciated the professionalism and willingness to explain my issues and the process as we went through.

Overall felt very welcomed and comfortable, and new I was gonna get amazing care and be in great hands.

Will definitely recommend Dr. Ryan!

It was our first visit and everyone was very polite. The way they were explaining everything was very helpful and understandable. Doctor was very humble and helpful. Overall it was a good experience. Looking forward for same in future.

Very friendly staff all the way. Very informative and in debt analysis of the body and overall structure. Can't want for my first session.

Knowing how my son was feeling before seeking chiropractic care to how he is feeling now has been such a huge improvement! I felt that there was hope for me!

Very friendly, very helpful, very efficient, lots of positive energy.

Really great atmosphere. I felt very comfortable in the place.

I found the staff to be very personable.

I had a very friendly and comfortable experience. I am confident that any of my healthcare needs will be met. I am looking forward to continuing treatments.

Overall a fantastic experience, the team demonstrated expert knowledge and explained the use of each instrument and step along the process. I am beyond excited to get started and looking forward to the continuing treatments I receive. Thanks again for a wonderful experience!

Thank you for the wonderful initial assessment appointment. I was nervous for pregnancy chiro as the entire process was new to me, but Angela and Dr. Aaron were kind and extremely helpful.

You guys are a fantastic bunch! Thanks a lot.

Extremely welcoming and friendly. I was completely comfortable as everything was explained in detail. Thank you for a great experience that I was honestly nervous about. Looking forward to my next visit.

Very welcoming. Very professional but still able to make it a relaxed experience. Very informative. I'm excited for my next appointment.

Very friendly and great staff! Can't wait to return!

Everyone is so warm, welcoming & kind, we were very pleased. I was honestly nervous for my daughter and I's appointments but that nervousness melted away the second Angela greeted us. She did a wonderful job at making my daughter and I comfortable, as did Dr. Ryan. My daughter is usually super nervous around new people but she was comfortable with Angela and Dr. Ryan. Looking forward to our future appointments!

Wow from the start to finish.

The people at your practice are all very friendly, knowledgeable and professional. My expectations were greatly exceeded and I am very thankful for your help. Definitely the best chiropractic office I've ever been to or even heard of.

Wonderful staff! Everyone was super helpful!

The fact that every single & small little thing about you and your point of pain is addressed and noted off. Also the explanations given in regards with the health issues are really good and easy to understand.

Both Dr Ryan & Angela were very knowledgeable, professional & friendly. I'm very confident that I will have my spinal problems corrected.

I appreciate the depth of information given and the positive atmosphere. I feel that I am in capable hands due to the various tests and information I received.

The staff are very friendly and welcoming. Nice to see smiling faces!

Absolutely incredible care from everyone in the office!

Very thorough initial visit. I was impressed at the amount of high tech tools being used.

My visit was phenomenal! Everyone was very informative, attentive, and friendly! I'm excited to receive further care!

Everyone at the office was amazing.

Very kind and welcoming staff. Committed to getting the job done!

My experience at Westheights Chiropractic has been incredible. The staff is welcoming and friendly, the fact that they remember everyone is incredible! Dr. Aarons knowledge and ability to be clear in his explanations is outstanding. I feel safe and comfortable every time I walk into the office. My introduction to them was by referral of a referral and I can say with absolute certainty that I will be referring people to Westheights Chiropractic myself!

The most comprehensive assessment I have had completed via a chiropractor and most health professionals. All staff were incredibly welcoming and encouraging. The team were very thorough, patient, and took the time for education and questions. By far my best experience.

I am so very happy to be joining you as a patient, as I feel confident that this alternative will be more beneficial to me than more medication would be. Looking forward to my next appointment!

My first visit was amazing! Can't wait to start my treatment!

Staff were very welcoming and professional, I'm excited for my next appointment!

Ever so pleasant and welcoming! Thanks for the thorough explanations, for being most considerate and professional. You all make a great team!

I feel very hopeful that I will finally get help with my health issues. Thank you!

Looking forward to improving my health with this wonderful team of people!

The staff is extremely welcoming and kind! Very respectful and helpful. Thank you, we will be back!

Thank you for making me feel so comfortable!

Excellent first experience with chiropractic care! Staying the course.

Everyone is very nice and you don't feel rushed.

All of you have been a pleasure thank you what a fantastic team.

You guys are amazing! One of the most professional environments I've had the pleasure of being in.

Amazing customer service and very experienced knowledgeable staff.

Very friendly! Extremely understanding and informative. Love it here already.

Thank you so much for such a great experience. It was only my first visit and you've already completely blown every other experience I've had in any clinic or office out of the water! I really appreciate your approach and care.
Just Phenomenal!
The team at Westheights Chiropractic were phenomenal. I'm a very introverted individual who doesn't do well with meeting new people but they are a very caring and respectful team that I look forward to getting to know with my future appointments. Thanks!!
- Dallas T.
Had No Idea What to Expect
Had no idea what to expect but was blown away by how friendly and helpful everyone was. From the minute I stepped in the door I felt like they cared and already knew me and genuinely wanted to help. I am so grateful my wife found this place for me!
- Erik W.
Extremely Thorough
Extremely thorough! I was amazed at all the testing they did on me for my consultation! I am very hopeful that they will be able to "fix" my neck/back!!
- Taylor C.
I Was So Impressed By All Of You
I have to say that I was so impressed by all of you during my visit this morning. I walked in the office like a whirlwind, not knowing what to expect and was greeted with bright eyes, warm smiles and a very welcoming atmosphere. Angela was absolutely amazing! She was non-judgmental and very positive making me feel very comfortable to open up about how I've been feeling. Dr. Ryan was also very kind, respectful and professional. Both Angela and Dr. Ryan were wonderful in explaining everything in a way that I could understand and I'm already noticing my own habits. I'm excited to start my visits and get back to better health. It took just 1 hour with the right people to put a little pep in my step, feeling like I'm finally on the right track. Thank you so much!
- Fatima M.
I am So Hopeful!
This was the first time l had been to a chiropractor and was a little nervous but everyone was very nice and the technology was amazing. Very hopeful that your treatments will fix my back.
- David J.
Extremely Thorough
Extremely thorough! I was amazed at all the testing they did on me for my consultation! I am very hopeful that they will be able to "fix" my neck/back!!
- Taylor C.
Amazing
Everyone at Westheights Chiropractic we're so friendly and professional making me feel comfortable & confident. Everyone at this facility was extremely helpful. I have never been so warmly welcomed anywhere. The staff were amazing and Dr. Ryan listened to all of my concerns and answered all of my questions that I had. 10/10 you guys are amazing!
- Emina P.
6 on a 5-Star Scale!
I took my son to Westheights Chiropractic 2.5 years ago after a horrible skiing accident. I was so extremely impressed with their knowledge, care, compassion and a more thorough examination of him than he received at the hospital emergency. I had been to many chiropractors over the past 30 years and now that I am in need again of treatment, I will never go anywhere else! My initial exam the other day was the most extensive I've ever had. I am looking forward to my path to recovery with Dr. Ryan and his team. I've also never met a friendlier medical team than this group before. If I had to rate them on a 5 star scale.....It would be a 6!
- Tammy M.
Confident With My Care
Everyone at Westheights Chiropractic we're so friendly and professional making me feel comfortable & confident with my chiropractic health care program moving forward. For that, I thank you.
- Heather S.
Best in Canada!
The most customer-friendly place I've visited since in Canada. Would definitely recommend Westheights Chiropractic. They took the time to explain the routine of your visit and make sure you understand. Excellent communication. I felt really welcome.
- Allison B.
Comprehensive Exam
Very thorough initial visit! So many different tools were used to make a comprehensive physical assessment. I feel hopeful that working with Dr. Aaron will help me with my journey. Emma is always so cheerful when I call in! Definitely a great team!
- Devi D.
Very Comfortable
Everyone was very welcoming and encouraging, without any pressure wanted. Angela and Dr. Ryan were both very thorough in the assessment explaining everything I needed to know and making me feel comfortable; my first adjustment went very well and I look forward to continuing with Dr. Ryan and Westheights Chiropractic.
- Jon K.

Westheights Chiropractic Reviews | (519) 744-9904